Flores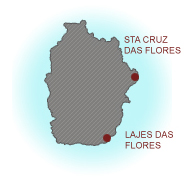 The ever present green in thousands of shades, cool and fresh as the morning light, dreamy turquoise lakes, waterfalls crashing down for hundreds of metres in search of the ocean... This is the natural setting of Flores Island, which becomes even more inviting when we think of its calm life that reminds us of old times.
Visiting Flores Island is entering a world of tranquillity and beauty, where we feel like walking and discovering hidden charms: the fast spin of the grindstones, the crystal-clear, fish-rich seawater, the thousands of hydrangeas that enhance the always green vegetation or the delicate transparency of the fish-scale flowers made by agile hands.
Geographical Description
Flores Island is located at 21º 59" west longitude and 39º 25" north latitude. The area of this trapeze-shaped island covers 143.11 km2: 17 km of length and 12.5 km at its maximum width. The central platform, around 500-600 metres high, has Morro Alto as its highest point (914 m).
What to visit
Lakes
Flores Island is extremely rich in natural beauties. The seven lakes in the central area of the island are one of the most interesting places to visit.
Rocha dos Bordões
This is a spectacular geological phenomenon originated by the solidification of lava in vertical sticks.
What to do
Cetacean watching
Diving
Motor and sail boat tours
Horseback rides
Festivities
Holy Ghost Festivals
Festa do Emigrante (Emigrants' Festival)
St. John's Festival